- Utilize micro compressor and refrigerant to cool PC, to maximize over-clocking limitation and performance.
- 20ºC cooler than liquid cooling System
- Equipped with intelligent IC controller to prevent condensation
- Thermal resistance can be <0.02 ºC/W under 100% loading.
- High performance micro compressor uses standard 12V power
- Small, low noise, high performance technology.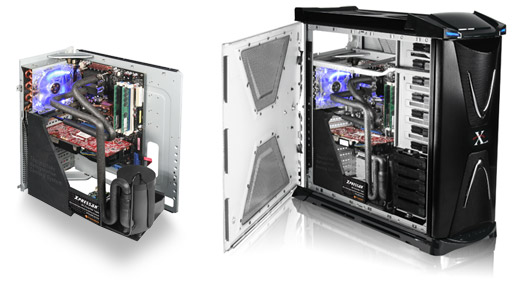 Compatible Motherboards List for Intel LGA775
MSI

- P45 Diamond
- P7N SLI
- P7N Diamond (Only for one VGA card plug in 4th slot)
- P7N2 Diamond (Only for one VGA card plug in 4th slot)
- X48C Platinum (Only for one VGA card plug in 4th slot)

Gigabyte
- EP45-DQ6
- EP45T Extreme (DDR3)
- EP45 Extreme (DDR2)
- X48T-DQ6 (DDR3)
- X48-DQ6 (DDR2)
Asus

- Blitz Formula
- P5Q
- P5QC
- P5Q Pro
- P5Q Deluxe
- P5E Deluxe
- P5N-D
- P5N-E SLI
- Striker II Formula
Compatible Motherboards List for Intel LGA1366
MSI

- Eclipse SLI
- X58 Platinum
- X58 Platinum SLI

Gigabyte
- GA-EX58-EXTREME
- GA-EX58-UD4
- GA-EX58-UD5
- GA-EX58-DS4
- GA-EX58-UD4P